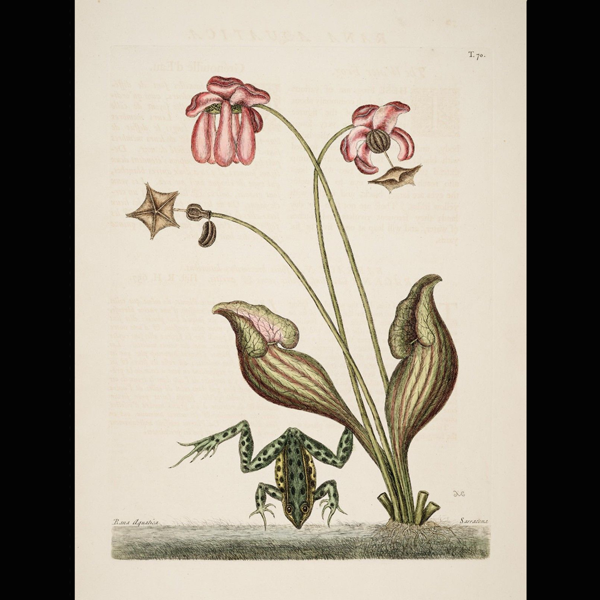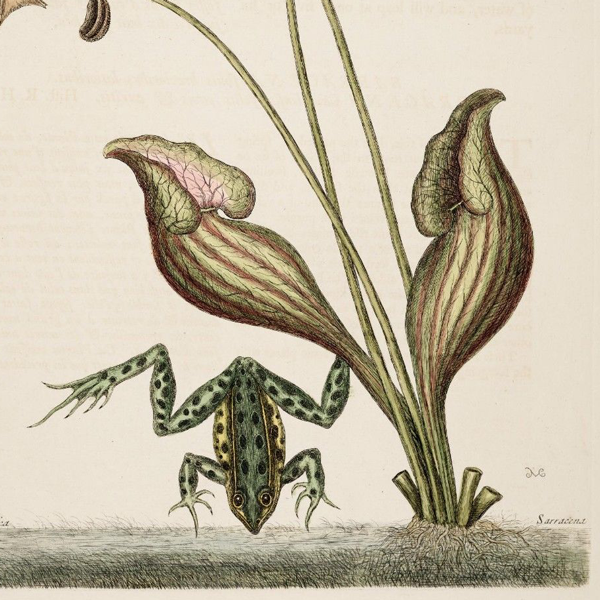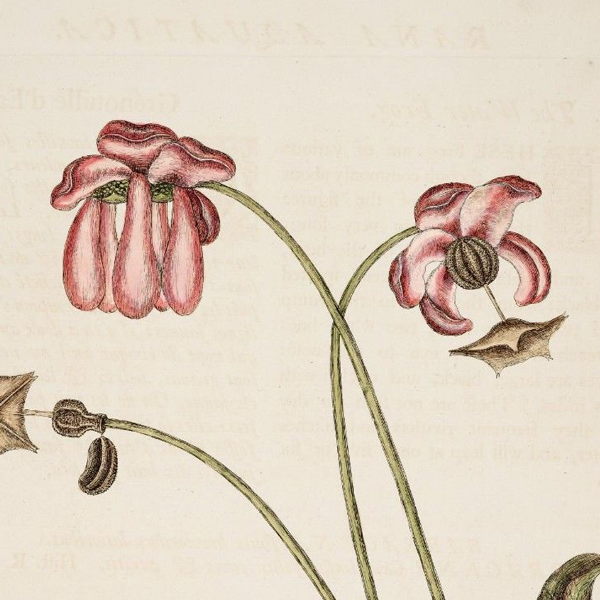 Print Sarracenia purpurea Catesby, 1743
Print Sarracenia purpurea by Mark Catesby, 1743
Illustrator: Mark Catesby (1683-1749).
Engraver: Johann Michael Seligmann (1720–1762).
From: Mark Catesby, The Natural History of Carolina, Florida and the Bahama Islands, Volume 2, Plate 70.
Published: London. W. Innys, 1743.
Sheet size: Approximately 11 x 17 inches.
Condition: Excellent, thick-stock, acid-free, 100% cotton paper.
Comments: Mark Catesby was an English natural history botanist and ornithologist sent to the Carolina Colonies in 1722 by the Royal Society to observe and record the natural history of the area. His travels took him through the Carolinas, Florida and the Bahamas. His most famous work, The Natural History of Carolina, Florida and the Bahama Islands, volume 1 was completed in 1729 and volume 2 in 1746. This is the earliest color-plate book of American natural history, with an emphasis on birds.
     Johann Seligmann was a German artist and engraver, best known for his ornithological artwork that combined the work of Catesby and Edwards into one single work, the nine volume Sammlung verschiedener ausländischer und seltener Vögel... (Collection of Various Foreign and Rare Birds) The engravings in this work are hand-colored from copper plates.
    The text identifies the frog as Rana aquatica, the Water Frog (likely Lithobates pipens), and the pitcher plant as Sarracenia folis brevioribus latioribus, known today as Sarracenia purpurea, the Purple Pitcher Plant.  It is native to northern and mid-Atlantic North America.  It has deep red flowers in the early Spring and develops rich reddish-purple traps in the Fall.  It can be quite abundant in its native habitat.
    A copy of the title page and descriptive page are included. This item is a high resolution digital print from the original hand-colored copperplate engraving from 1743.