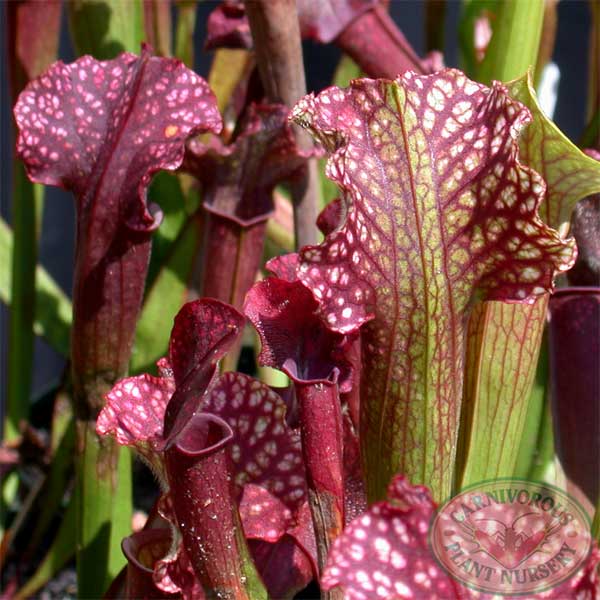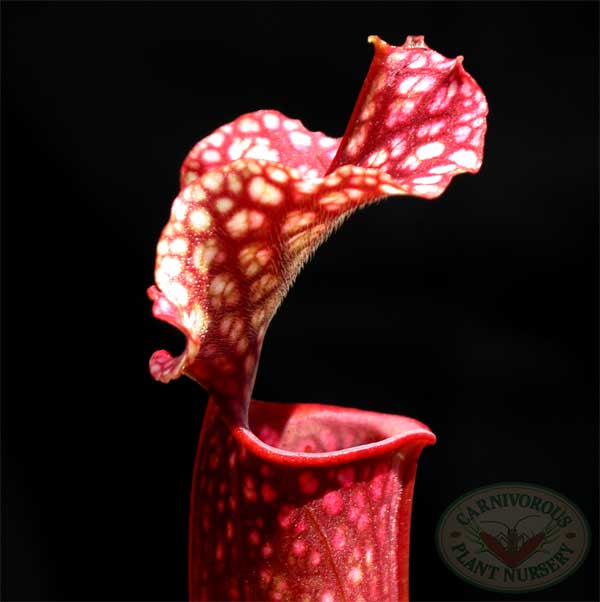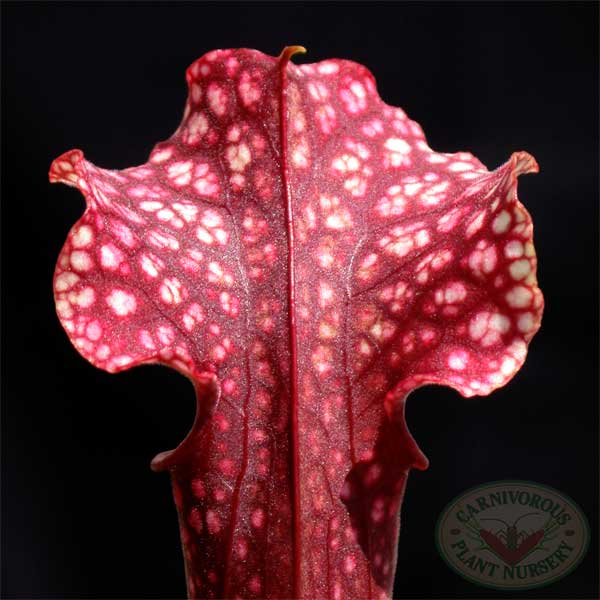 Sarracenia x Judith Hindle
Ease to Grow: Easy
Dormancy: Suggested
Native Range: Hybrid - not native, but parents are from Eastern USA
Zones: 6-8 (5-10)
Sarracenia x Judith Hindle is a medium height pitcher plant with beautiful ruffled red maroon hoods. Its S. leucophylla heritage accents the hood's lacy red pink white venation. The marbled hoods are attractive landing sites for flying insects that are attracted to the leaf colors and nectar. Young trumpets are green, laced with yellow, with a green and white ruffled hood. They soon darken to deep red maroon with white, yellow, red and green mottling in the hood. The paler colors turn pink with age. Sarracenia x Judith Hindle is very showy in the Fall when other plants nestle in. Trumpets tolerate light frost. The showy flowers are maroon red, globular, and mildly fragrant. With proper care, Judith Hindle Pitcher Plants generally bloom from April to May before the pitchers fully develop. This hybrid resulted from crossing Sarracenia (leucophylla x flava rugelli) x purpurea chipola. The cross was made by Alan Hindle in 1985, and is named for Judith Hindle, Alan's wife. The Judith Hindle Pitcher Plant is an official cultivar of ICPS.
Plants are shipped bare-root, wrapped in damp sphagnum moss. In it's dormant season, it will be shipped as a dormant rhizome with trimmed off pitchers. Photographs are representative of the cultivar, and not the specific plant shipped.
Height: 8"-14"
Plant Type: Perennial, temperate
Soil: All-Purpose Mix or Upper Bog Mix
Light: Bright indoors, full sun outdoors
Use: Grows well in the bog garden, greenhouse, and indoors. It is a good subject for terrariums of medium height if provided winter dormancy.