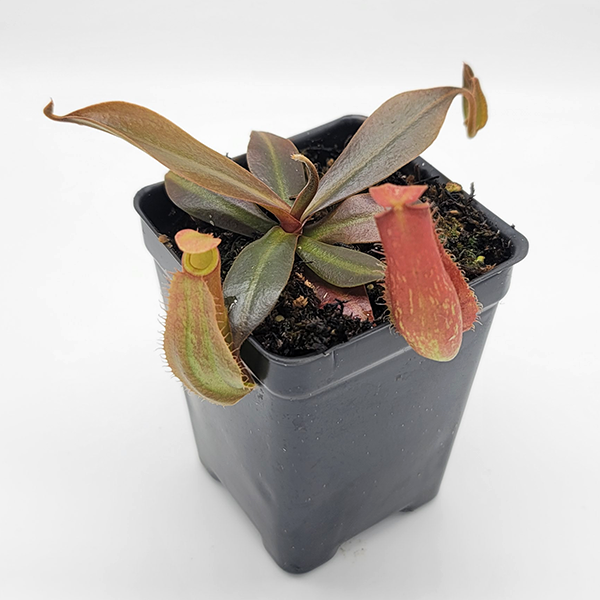 Nepenthes ampullaria x reinwardtiana
Ease to Grow: Easy
Dormancy: No
Native Range: Parents from tropical Malaysia
Zones: 11-13 (10-14)
Nepenthes ampullaria x reinwardtiana, is a cross with lowland and highland parentage which gives it vigor and temperature tolerance. It is a beautiful hybrid nepenthes with plumb greenish or orange red medium size pitchers, 2-3" (5-8cm) in length. It has a very wide temperature tolerance and does well in a window. It is a fast grower, and a great house plant, that can be grown outdoors in the warm weather. It is suitable for beginners.
This clone N. ampullaria x reinwardtiana, was developed by Borneo Exotics, BE-3938.
Unless described as "potted", plants are shipped bare-root, wrapped in damp Sphagnum moss. Photographs are representative of species, and not the specific plant shipped.
Height: 18+"
Plant Type: Perennial, Tropical, Lowland to Intermediate
Soil: Live Sphagnum Moss or Nepenthes Mix
Light: Bright indirect indoors, full to partial sun outdoors
Use: Grows well on the window sill, or in the sunroom or greenhouse.