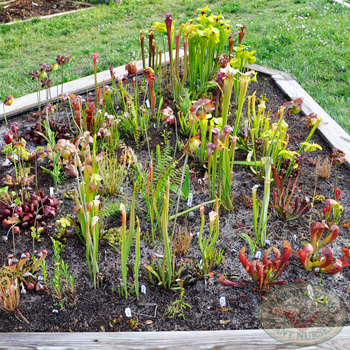 Build a Display Bed for Carnivorous Plants
Carnivorous Plant Display Bed Construction
Materials: 6"x6" treated lumber, 10" spikes, 1/8" rubber pool liner, sand, peat, 2" PVC pipe, 4" PVC pipe, 4" perforated PVC drain pipe, 2" PVC bulkhead.
This large display bed sits in front of our shop, and measures approximately 10' x 12'. It is top-edged with 6"x6" treated landscape lumbers. I began by placing the 6x6s into the ground, cutting them to fit the shape and anchoring them in place using 10" spikes. Then the digging began. I wanted the bottom to go below the frost line (20" here on Catoctin Mountain), and have a bowl-shaped bottom.
Since this bed is part of the irrigation system for the nursery's outdoor beds, I connected the water flow to the display bed. You may have a similar setup or you can connect your bed to a downspout or cistern. I plan for top watering by hand only when it becomes neccessary. (This has only been the case for occasional watering in the summer heat of August). The black bulkhead connects the water inflow of the irrigation system to the box, and the white 4" PVC is placed about 6" from the top to allow the box to hold a generous resevoir of water, but not become flooded after heavy rains. I used sand to line the bottom to help protect the 1/8" pool liner, and tapered the sand to the edges so there were no sharp bends in the liner.
The liner was cut to a generous size, centered close to place, and filled with water to help it settle into the shape of the hole. During filling with water, I carefully tugged and pulled on the liner to minimize folds and angles. Once it was positioned where I wanted it, I connected the water inflow to the drain using 4" PVC perforated drain tubing. This allows for the more even distribution of water into the growing medium.  The box was filled with CP soil, and the liner was trimmed 2" below the surface to be out of sight. Finally the fun stage of planting began and you see the initally finished carnivorous plant display bed in the last picture.