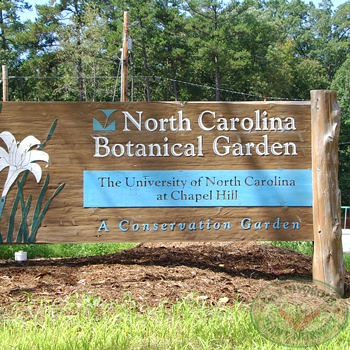 Carnivorous Plant Field Trips
Carnivorous Plant Field Trips
It can be a very rewarding experience to see Carnivorous Plants growing in the wild. Visiting a bog brings a new dimension to understanding the habitat associated with Carnivorous Plants. There probably are several excellent sites to consider visiting in your area. Please keep in mind that the bog habitat is a fragile one, and is best limited to sites with boardwalks designed for visitors. Taking 30 people "bog stomping" could do a great deal of damage to the site and, especially to the plants. It is not a good idea to take large groups into such an area. Perhaps small groups that are well versed in appropriate behavior are best. The sites listed have controlled and limited access.

"Bog stomping" is often a wet experience and thick brush is common. It is hard to spot snakes and spiders in these conditions. Keep an eye out for poison ivy, poison oak and poison sumac, and other hazards. Most people are allergic to these or develop allergies with repeated exposure. It is recommended to wear tennis shoes and jeans. Remember that some bogs, especially quaking bogs, are made out of thick layers of floating beds of Sphagnum moss. Stay on solid ground. It is a good idea to go with a friend, in case of trouble of any kind.

Please contact the appropriate people responsible for each site before visiting it. They can give you specific directions and offer a high-quality interpretative experience. Take pictures and videos, not plants.
Carnivorous Plant Exhibits & Habitats in the USA
Minimac Wildflower Bog, Silverhill, AL
Weeks Bay Pitcher Plant Bog, Fairhope, AL
Splinter Hill Bog Preserve, Perdido, AL
Darlingtonia Trail, Six Rivers National Forest, Crescent City, CA
California State University, Fullerton, CA
California State University, Humboldt, CA
Huntington Gardens, San Marino, CA
Los Angles State and County Arboretum, Arcadia, CA
San Francisco Conservatory, Golden Gate Park, San Francisco, CA
University of California Botanical Gardens, Berkeley, CA
Sequoia National Park, CA
Denver Botanical Gardens, Denver, CO
Black Spruce Bog, Mohawk State Forest, CT
Blackwater River State Forest, Milton FL
Everglades National Park, FL
Fuqua Conservatory, Atlanta Botanical Gardens, Atlanta, GA
Okefenokee Swamp Park, Waycross, GA
Chicago Botanic Gardens, Glencoe, IL
Volo Bog, Ingleside, IL
Pinhook Bog, Indiana Dunes National Lakeshore, Porter, IN
The Bog Nature Trail, Charles W. Ward Reservation, Andover, MA
Mud Pond, Ashburnham, MA
Ponkapoag Bog, Canton, MA
Big Heath, Acadia National Park, Bar Harbor, ME
Angel's Bog, Lake Shore, MD
Cedarville State Forest, Brandywine, MD
Piney Branch Bog, St. Charles, MD
Suitland Bog, Suitland, MD
U.S. Department of Agriculture Research Station, Beltsville, MD
Waterloo Recreation Nature Center, Chelsea, MI
Botanical Gardens, Minneapolis, MN
Big Bog State Recreation Area, Waskish, MN
Missouri Botanical Gardens, St. Louis, MO
Buttercup Flats, Desoto National Forest, Stone County, MS

Crosby Arboretum, Picayune MS

Mississippi Sandhill Crane National Wildlife Refuge, Gauthier, MS

Boiling Spring Lakes area, NC
Carolina Beach State Park, NC
Croatan National Forest, New Bern, NC
Green Swamp Area, NC Nature Conservancy, Supply, NC
NC Botanical Gardens, Chapel Hill, NC
Sandhills Nature Preserve, Hoffman, NC
Sarah P. Duke Gardens, Durham, NC
Stanley Rehder Carnivorous Plant Garden, Willmington, NC
State University of North Carolina, Raleigh, NC
University of North Carolina, Chapel Hill, NC
Weymouth Woods State Park, Aberdeen, NC
Webb's Mill Bog, Whiting, New Jersey
Wharton State Forest, Pine Barrens, NJ
Hanging Bog WMA, Allegany, NY
Cornell University Arboretum, Ithaca, NY
Brooklyn Botanical Gardens, Prospect Park, Brooklyn, NY
NY Botanical Gardens, Bronx, NY
Philbrick-Crecenti Bog, New London, NH
Ponemah Bog, Amherst, NH
Cranberry Island in Buckeye Lake, Buckeye Lake, OH
Franklin Park Conservatory and Garden Center, Columbus, OH
Triangle Lake Bog, Kent, OH
Cooperrider-Kent Bog, Kent, OH
Darlingtonia State Botanical Wayside, Florence, OR
Black Moshannon State Park, Philipsburg, PA
Longwood Botanical Gardens, Kennett Square, PA
Phipps Conservatory, Schenley Park, Pittsburgh, PA
Tannersville Cranberry Bog, Stroudsburg, PA
Chanticleer Garden, Wayne, PA
Great Swamp, Kingstown, RI
Columbia Zoo & Botanical Gardens, Columbia, SC
Lewis Ocean Bay Heritage Preserve, Conway, SC

Lynchburg Savanna Heritage Preserve, Lynchburg, SC
Big Thicket National Preserve, Kountze, TX
Flynn Bogs, Flynn, TX
Lewis Ginter Gardens, Richmond, VA
Big Run Bog, Thomas, WV
Cranberry Glades, Monongahela National Forest, Richwood, WV
Cranesville Swamp, Cranesville, WV
Dolly Sods, Monongahela National Forest, Jordon Run, WV
United States Botanic Garden, Washington, DC