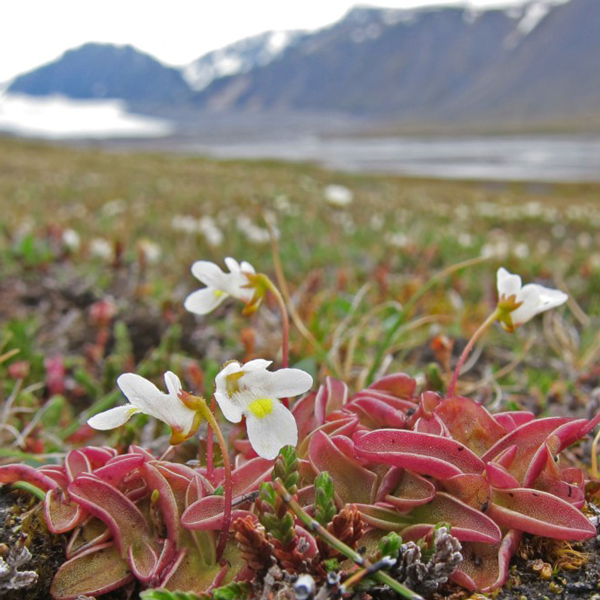 Northernmost Carnivorous Plant
World's Northernmost Carnivorous Plant
Scientists have found the carnivorous plant Pinguicula Alpina L., also known as the alpine butterwort, on the Arctic Archipelago of Svalbard. The discovery is remarkable and a new proof of how little we know about biodiversity in a melting Arctic.
Biologist Anna Vader and botanist Pernille Bronken Eidesen found the plant by coincidence deep inside the Ringhorn valley, situated by the Wijdefjord.
– I never thought we would find a new flower species here. In fact, a carnivorous plant, on Svalbard!, Pernille B. Eidesen tells Norwegian Broadcasting Corporation (NRK).
It was her colleague, biologist and polar bear guard Anna Vader who first discovered the plant.
A Botanical Sensation
The experienced botanist Bronken Eidesen says that she never before has been involved in finding a new species on Svalbard.
The discovery is remarkable. This is the first time since 1975 that it is discovered a new insect-pollinated flower on the Arctic Archipelago.
– This is a sensation, Arve Elvebakk says, Professor of Botany at the University of Tromsø when he is informed of the news, adding that Svalbard is far from fully explored.
Catching Insects
The plant is probably of the same type as found on the mainland, but has to be genetically tested before researchers know whether this is a whole new Svalbard species. If this is the case, it is customary to name the new species after its finder.
The fact that the flower is carnivorous is very interesting in an Arctic context. Short summers, dry climate and permafrost cause poor growing conditions and many plants need a fungus (mycorrhiza) to get enough nitrogen to survive, while carnivorous plants collect nitrogen through insects they catch with their sticky leaves.
Text modified by: Thor Lanesskog, ThorNews
Photos: Anna Vader.