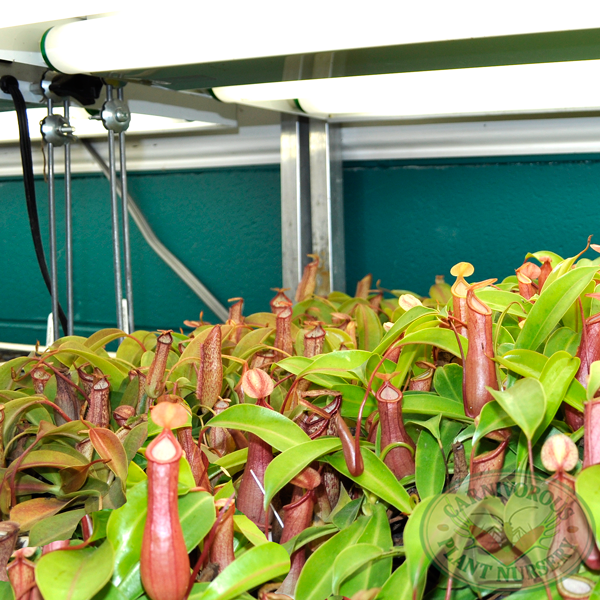 Indoor Lighting
Indoor Lighting
Growing carnivorous plants indoors is practical and convenient. One major consideration is providing sufficient light. Since most carnivorous plants develop their best color and flowering in bright light, it is important to provide good lighting. This can be accomplished indoors often by placing the plants on or near a bright window sill. However artifical lighting extends your indoor growing area.
I have found that plant carts, large or small, are a great way to pack a large number of plants into a small area. Hanging a simple shop light over a tray of growing carnivorous plants is an easy arrangement. Keep in mind that light intensity and duration are important considerations. Common white light fluorescent lights placed about 6" above the plants, and run on a timer set for 14 hours a day is a good basic set up for indoor growing. Lights can be placed from a few inches to a foot above the plants and experimenting with height is worth the effort. Also consider a longer light period for the timer, or adjusting the time seasonally to mimic outdoor growing. 16 hours summer, 14 hours fall/spring and 12 hours winter. I have not yet found a timer that can be set for seasonal variations. Varying the length of daylight will help induce flowering.
Which fluorescent bulb to use? My days teaching Physics and Biology have taught me that plants appear to be green in color because they are absorbing all colors of light except green. They reflect this back to our eyes, and thus appear green. What this means for growing, is that plants use the red and blue ends of the spectrum for their photosynthetic needs. Blue light tends to favor leaf growth, and red light tends to favor flowering, seed and root growth. Though most fluorescent lights look like they are giving off white light, there are important differences in the intensities or range of their spectrums or light frequencies. These are described by the manufactures as color temperature. Soft White at 2700K offers a yellowish light, Cool White at 4000-5000K provides a slightly blue light, Daylight White at 5000-5900K is much bluer white. Grow Lights (Plant/Aquarium) are designed to enhace both red and blue frequencies for plants and provide a wider temperature spectrum. They glow at a slightly pink color and are typically twice the price of more common fluorescent tubes. I prefer the Grow Lights, but have had success with Daylight White too.
LED (light emitting diodes) designed for plants are becoming more available. These tend to be a combination of red and blue LEDs, and sometimes provide an unnatural looking glow. They are less expensive to operate.
Aquarist and coral growers often use Metal Halide lighting. I find this too bright and costly to operate for my preference.
Other Considerations
Keep in mind that most light and/or their ballasts produce heat. This can be troublesome in a closed terrarium, so keep a thermometer with the plants to monitor heat.
Be sure to keep the humidity up for your indoor carnivorous plants by growing them in a water tray, open terrarium or within a plastic tent.
A reflective surface such as mylar or aluminum foil can help reflect more light back onto the plants.