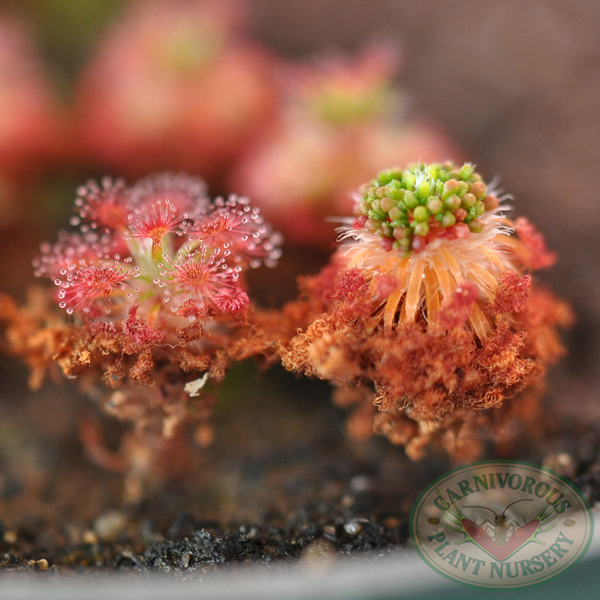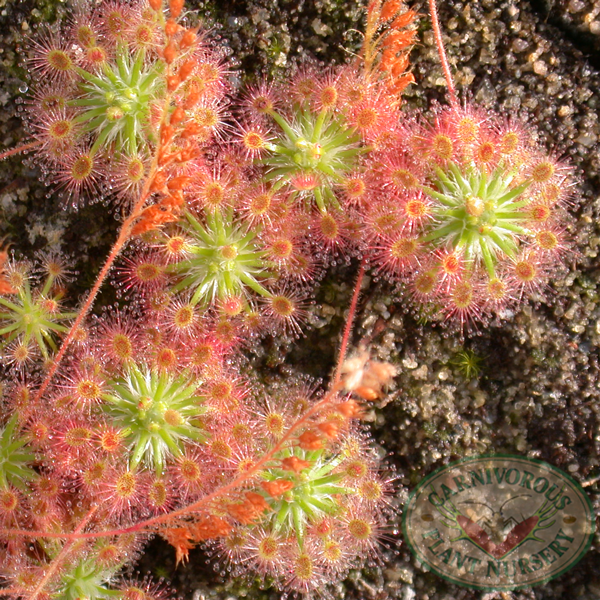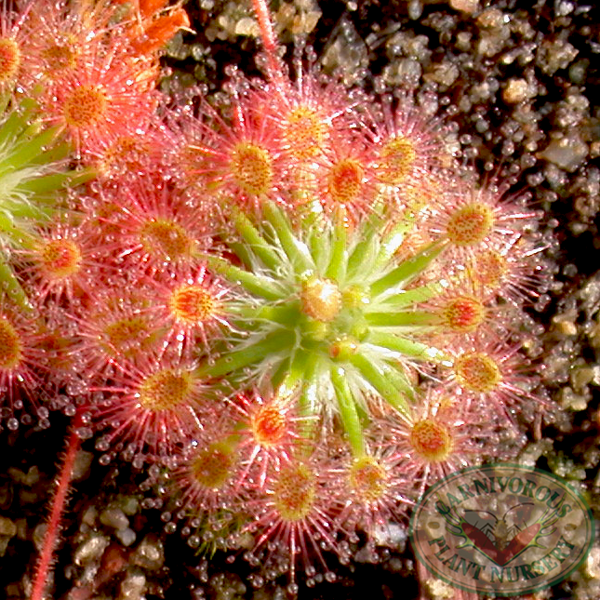 Ease to Grow: Easy
Dormancy: Yes, forming gemmae
Native Range: Peaty wetlands of Southwestern Australia
Zones: 10 (9-11)
Gemmae are seed-like leaf buds
.
Drosera roseana
, is one of the easy-to-grow pygmy sundews. It is of medium size for a pygmy with wonderful orangey-red to red leaves in a dense rosette. The leaves resemble little cherry lollipops with green stems. As it matures, the rosette grows upward, leaving a pretty column of sticky leaves below. It prefers a sunny, humid spot with sandy-peat soil in the growing season, and drier, but not totally dry soil in the winter, when it goes dormant. It flowers mid summer with numerous, small, white flowers. They have a sweet fragrance and stay open, day and night, for several days. They do not seed readily in cultivation. It does however, produce numerous gemmae in the winter, which can be harvested when they darken slightly. The gemmae can be sown immediately on the surface of the pot, or stored cool and damp for a short period.
D. roseana
is a pretty little pygmy. This selection comes from gemmae and are identical to the parents.
Note: All pygmy sundews, by their very nature, are quite small, smaller than a dime. They are called pygmies for a reason.
Gemmae are freshly harvested before shipping, and are only available late Fall, Winter, and early Spring. Packs contain approximately 12 gemmae. Gemmae count is approximate, but reliable.
Note: All our sundews are produced from open pollination within our collection. Some cross pollination among different cultivars may occur. Growing pygmy sundews from gemmae is best suited for the experienced and patient grower. See our webpage on Gemmae.
Height: 0.25" - 0.5"
Plant Type: Perennial, tropical
Soil: Upper Bog Mix or General CP Mix
Light: Bright to partial bright
Use: Grows well indoors or in the greenhouse.