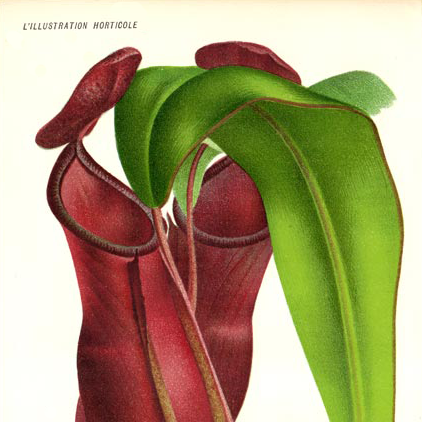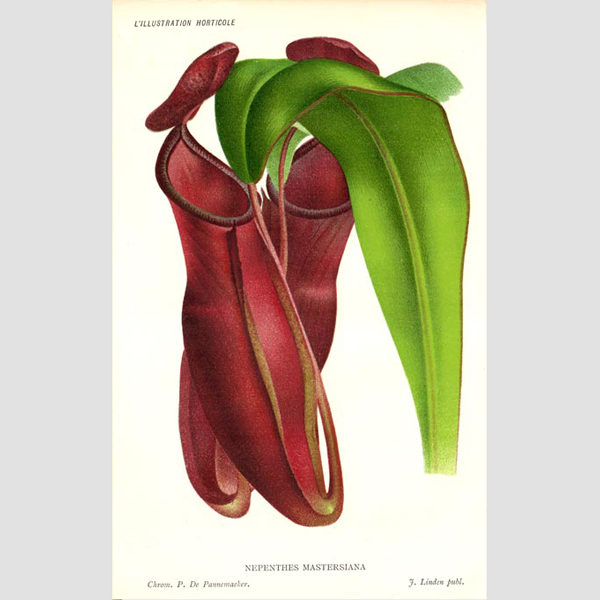 Lithograph Nepenthes mastersiana, 1886
Nepenthes mastersiana from L'Illustration Horticole, 1886 Original hand-colored engraving.
Illustrator: Pieter De Pannemaeker (1847-?)
Chromolithographer: P. De Pannemaeker
From: Jean Jules Linden, L'Illustration Horticole, Vol 33, Plate DCXVIII, preceding p. 187
Published: Ghent, Compagnie Continentale d'Horticulture, 1886
Sheet size: Approximately 7 x 10½ inches, reverse blank
Condition: Excellent; rich color, slight edge toning

Comments: L'Illustration Horticole was a Victorian era collaborative effort of the great horticulturists and field botanists of the day. The series highlighted full-page chromolithographs of newly discovered or cultivated species with botanical descriptions and culture information. It was a monthly periodical from 1854-1896.
Its editor, Jean Jules Linden (1817-1898) was an influential horticulturist and publisher, especially with orchids. At age 19, he was selected for a government-sponsored botanical expedition to South and Central America, and traveled there until 1844 collecting new species, and describing habitats.  From 1845, he worked as a plant dealer in Luxembourg and Ghent, eventually founding the nursery Horticulture Internationale in Brussels, where he imported and introduced new plants, including over 1,100 species of orchids.  Linden is credited with popularizing begonias, camellias, and palm trees in Europe.
Pieter De Pannemaeker was a prolific watercolor artist and printmaker active in Ghent, Belgium, in the 19th century. He specialized in landscapes and botanicals and contributed to many periodicals and publications when Belgium was the leading center for botanical publishing. His credits include art and chromolithographs for Linden's publications Lindenia and L'Illustration Horticole.
Chromolithographs reached their pinnacle at the turn of the 18th century.  High quality color images were printed using multiple stones, each "inked" with a different color and each layer aligned with great precision. It is an extinct printing process.  "Chromos" today are cultural and historical treasures.
Nepenthes mastersiana is a nepenthes hybrid from the parents N. khasiana x N. sanguinea.  It was a popular old Victorian era plant, that is considered an easy grower, that can produce very large scarlet red traps.
The original descriptive page are included.