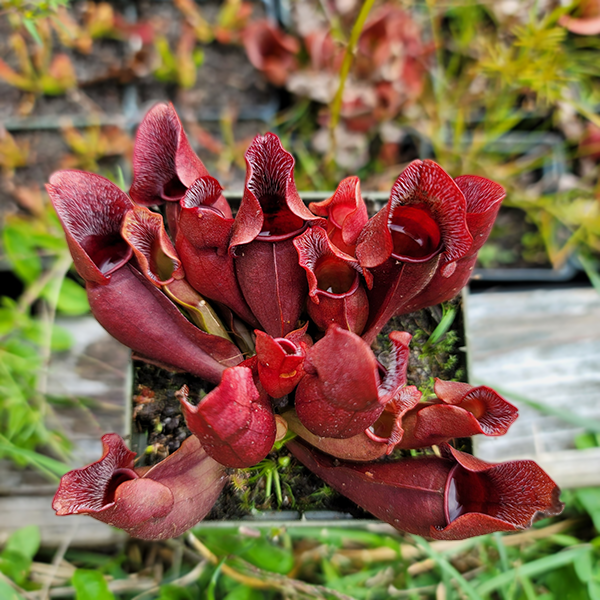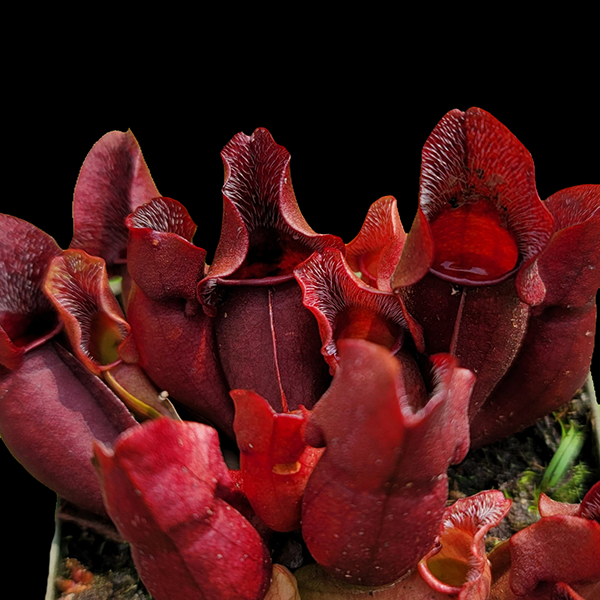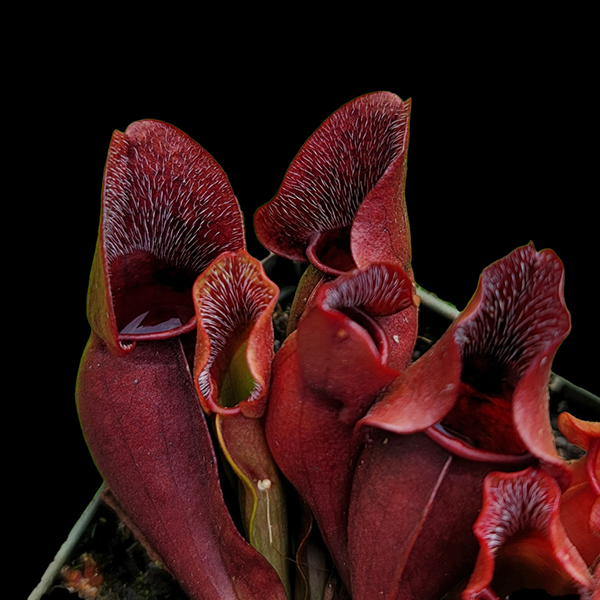 Sarracenia purpurea venosa - Red
Ease to Grow: Easy
Dormancy: Suggested
Native Range: Peat Bogs of Southeastern North America
Zones: 7-9 (6-10)
The red form of the Southern Purple Pitcher Plant, Sarracenia purpurea venosa, has striking, almost cherry red trap coloration and rich red veins. The traps are identical in shape to typical venosa and the external pitcher surface is, similarly, covered by small dense hairs, feeling soft and flexible to the touch. It tends to clump and form colonies, about 2 feet across. In the winter it often maintains its red traps. It is a fragrant, early Spring bloomer, growing light and bright red blossoms on a 10 inch scape, that flower before the new pitchers. Flower stalks and sepals last through the year, resembling green daffodils. It prefers warm summers and mild winters. It is native from Alabama to Virginia and is the only native Sarracenia purpurea south of Virginia. It is well-suited for terrariums and backyard bog gardens, even in the North with winter protection.
Plants are shipped bare-root, wrapped in damp sphagnum moss. In it's dormant season, it will be shipped as a dormant rhizome with trimmed off pitchers. Photographs are representative of the species, and not the specific plant shipped. Veining and coloration may vary because these are a seed strain.
Height: 4" - 8"
Plant Type: Perennial, warm temperate
Soil: Upper Bog Mix or All Purpose Mix
Light: Bright to partial bright indoors, full sun to partial sun outdoors
Use: Grows well in the bog garden, greenhouse and indoors. It is excellent for terrariums.