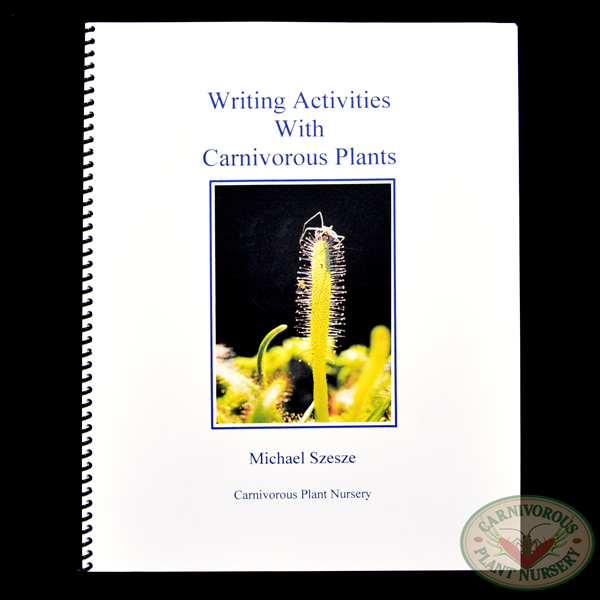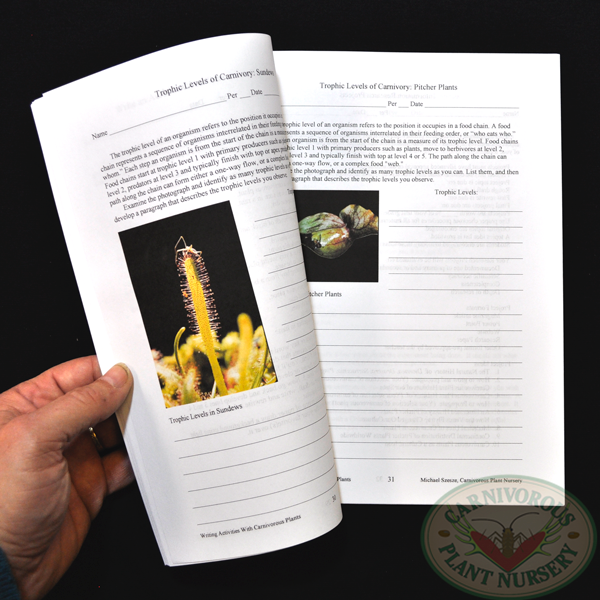 Writing Activities with Carnivorous Plants
Writing Activities with Carnivorous Plants
"Writing Activities with Carnivorous Plants" is a comprehensive writing guide for the fascinating world of Carnivorous Plants. The activities are designed for middle and high school, and can easily be adapted for elementary grades. Writing Prompts and Graphic Organizers are linked to the National Science Content Standards and consistent with State and Local Learning Outcomes. 63 pages.
     There are a few things you can put in front of students that spontaneously generate questions and exploration; magnets, spiders, and green fire are some, but carnivorous plants can out shine them all. I have often started a unit in Botany, only to have students roll their eyes, and say this is going to be boring. I'll say wait a minute, and bring out a few carnivorous plants, and automatically students being asking questions. How do they do that? Will they eat stinkbugs? What kind is that? Where can I get some?.... With guided instruction, you can turn those questions into scientific "testable questions", which soon become hypotheses, and before you know it, the investigations begin and the unit is rolling.  All of this, based on their questions, not the teacher's questions, or questions from the book, but the very questions students themselves are asking. The power of this kind of instruction is engaging and amazing.  I smile at the end of the unit when I ask students, "I thought you said plants were boring?"
     Within these pages are stepping stones into the fascinating world of carnivorous plants, through the use of writing activities. They target middle and high school, but are easily adapted for elementary grades. These activities are classroom tested, and written in an easy to follow format. They are ready to duplicate and give to students, or can be modified to meet individual needs. The book includes thirty activities including writing prompts, riddles, braille activities, research projects, and many graphic organizers.
     This book is a great companion for "40 Laboratory Activities with Carnivorous Plants."