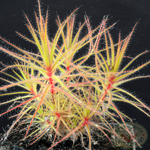 Roridula
Roridula
    Roridula (Flycatcher Bush), are glistening, resin-laden, shrubby perennial carnivorous plants endemic to the South African Cape Provinces. There are only 2 species: Roridula gorgonias and R. dentata. Their natural populations are restricted to a narrow band along the Cape and occur in sparse and very scattered populations. They are the only carnivorous bushes (save of course the Man-Eating-Tree of Madagascar). They have woody tissue, and have a unique sticky resin. It is the stickiest of all carnivorous plant adhesives, much like pine sap. Roridula have been known to catch birds. Assassin Bugs, Pameriea sp., however, seem to have a unique immunity to the stuff, and crawl about the long thin tentacles, feeding upon plant-captured prey. In turn their droppings act like a leaf fertilizer for the plant. The tentacles do not move like their cousins the sundews.
  A mature bush can stand 5 to 6 feet tall. Leaves are about 3" long and loaded with long, thin tentacles topped with a droplet of extremely sticky resin. Flowers are pink and 5 petaled. They are typically numerous and show nicely late Winter to early Spring.
   There are two species of Roridula. R. dentata and R. gorgonias. Both are very similar. R. dentata is generally larger with large saw-toothed leaves. R gorgonias has more flowers. They are native to a mediterranean-like climate (zone 10). They prefer a warm, sunny spot with coarse carnivorous plant soil and cooler, drier winters. Native plants need wildfire burns to prosper. This opens habitat, reduces competition from other plants and stimulates seed germination.
   Roridula are typically propagated from seed. The plants are few, large, and self-fertile. An application of liquid smoke will increase germination which can take 2 to 3 weeks or up to a year. Seeds can be stored for several years.  Stem cuttings taken in Spring can be moderately successful. Use a rooting compound and keep the cuttings in shade and humidity.  Harden off after the cutting root, before potting up. Large plants can be pruned in Spring to keep them bushy. Shipping and transplanting can be challenging. Keep the roots damp and pot up immediately upon receipt. We take care in wrapping bare-root plants, but it is suggested to have them shipped potted.