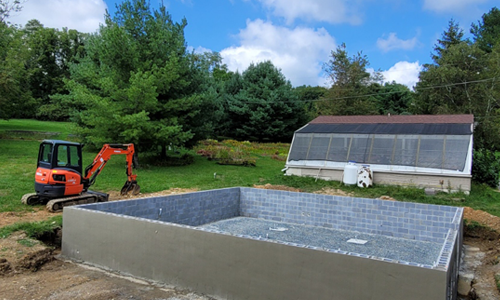 We're growing... get ready for some exciting changes!
The past several years have been a rollercoaster ride for all of us.
While many of us are still getting accustomed to all the new normals in a post-covid world, the biggest new normal for us at Carnivorous Plant Nursery has been unprecedented interest over the past two years. Thanks to both increased awareness of bog plants and habitats and the need for interesting and creative hobbies to keep us sane during lock-down, we've welcomed more happy customers over this period than ever before! We are humbled and deeply appreciative of the opportunities this has created.
While this has meant long days for the team here, and lots of growing pains, it also means that we're able to invest in the people, tools and facilities to bring Carnivorous Plant Nursery to the next level. Most notably, we're currently in the process of expanding our greenhouse space three-fold before winter arrives.
"Sure, sure, but what does this mean for me" you're wondering?
Better availability - For decades, our goal has been to cultivate mature, self-sustaining, "mother colonies" of every species of plant we sell. While this is an important core value to the business, it means that we're forced to limit availability to what we can sustainably produce. More (and more productive!) growing space means that you can expect reliable availability of even the more sought-after plants.
Deeper specialization - With our expansion comes thousands of square feet of specialized growing space. It's no surprise that, being located in the mid-Atlantic, we've had the largest selection of Sarracenia from day one. We'll be increasing our climate-controlled growing capacity ten-fold this winter with a special focus on cultivation of Cephalotus, Heliamphora, Darlingtonia and both highland and lowland Nepenthes.
More exciting changes that we aren't quite ready to talk about yet!
So, once again, thank you to all of our awesome customers who have made this possible. We're excited to have you along for the ride! And if you aren't a customer yet there's never been a better time to start growing some of the most amazing plants in the world!
Good growing,
-The Carnivorous Plant Nursery Team