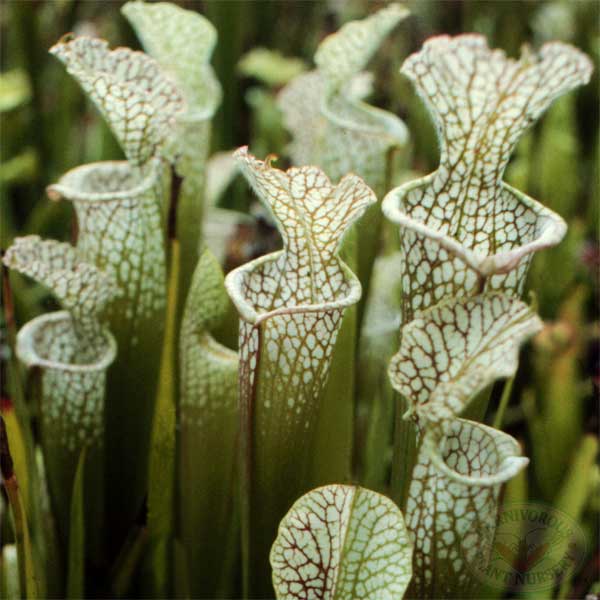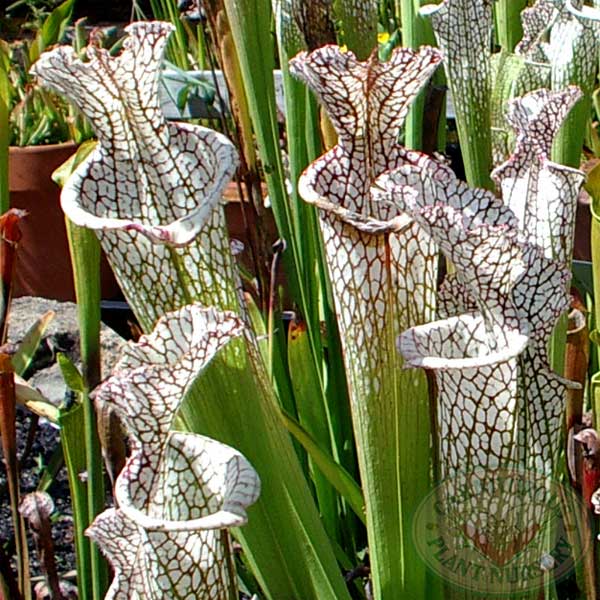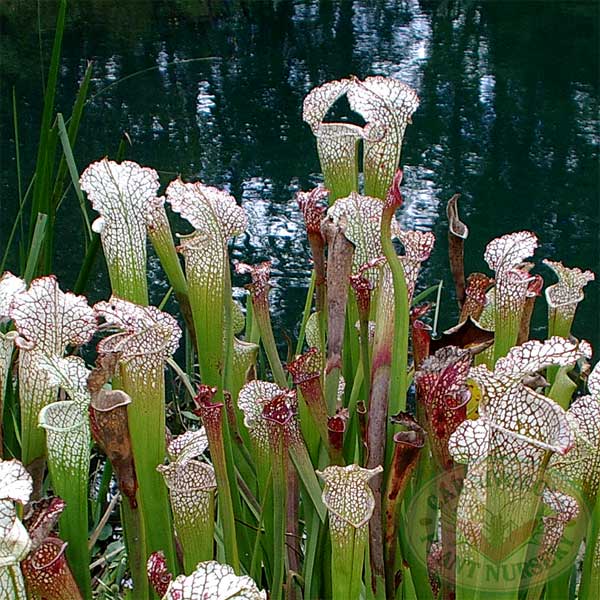 Ease to Grow: Easy
Dormancy: Recommended
Native Range: Wet Pocosins of the Gulf Coast from Georgia to the Mississippi Delta
Zones: 7-9 (6-10)
The White-Topped Pitcher Plant, Sarracenia leucophylla is a tall southern pitcher plant with distinctively red and white colored trumpets. White areoles (windows) dominate the upper portions of the tubes which attract many flying insects, particularly wasps. The carnivorous Sarracenia leucophylla plant has two trap seasons, producing a few nice traps in the Spring, but a burst of large vigorous traps in the Fall, when it is very showy and other pitcher plants dwindle. It prefers open, sunny, damp conditions, but tolerates semi-dry ones. Trumpets tolerate light frost. The showy flowers are red and mildly fragrant. They generally bloom from April to May before the pitchers fully develop. Appearing white from a distance, these plants are a wonderful accent or spectacular group display in the bog garden. This selection comes from seed, and will show some natural variations.
White-Topped Pitcher Plants are shipped bare-root, wrapped in damp sphagnum moss. In it's dormant season, it will be shipped as a dormant rhizome with trimmed off pitchers. Photographs are representative of species, and not the specific plant shipped. Veining and coloration may vary because these are a seed strain.
Height: 8" - 28"
Plant Type: Perennial, Temperate
Soil: Upper Bog Mix or All Purpose Mix
Light: Bright indoors, full sun to partial sun outdoors
Use: Grows well in the bog garden, greenhouse and indoors. It is an excellent accent plant.