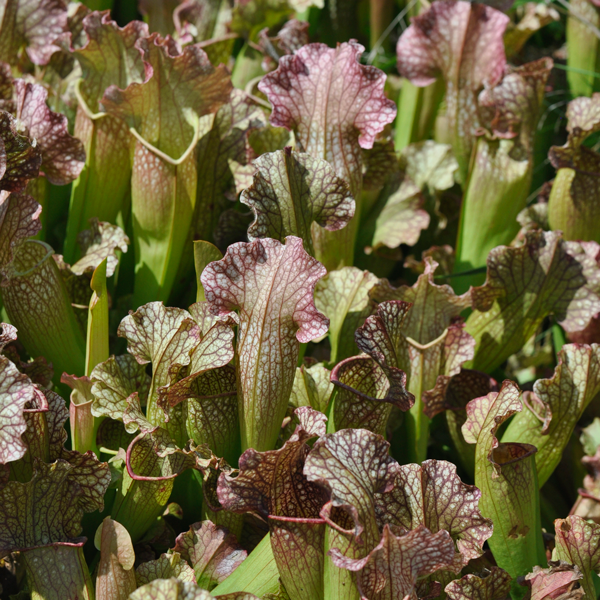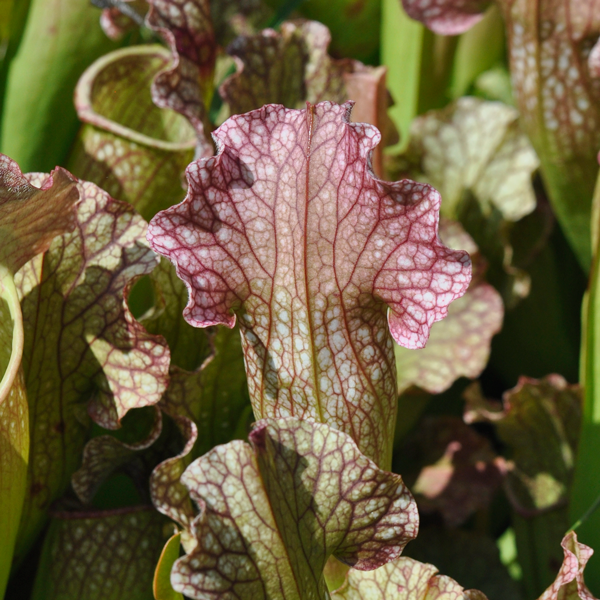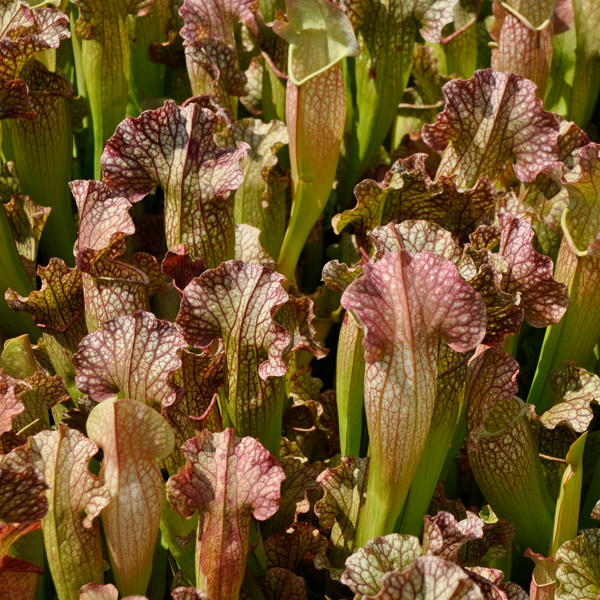 Ease to Grow: Easy
Dormancy: Suggested
Native Range: Wet Pocosins of the Gulf Coast from Georgia to the Mississippi Delta
Zones: 7-9 (6-10)
The Sarracenia x Velvet pitcher plant is a colorful shorter cultivar of S. leucophylla with numerous reddish brown veins and a fine velvety pubescence. The coloring is quite unique. In appearance it is a "short rufous colored Leuco".  Though its parentage is unknown, it is likely a complex cross of S. leucophylla and other complex crosses, probably including S. purpurea venosa. As with Sarracenia leucophylla, it shows a preference for very wet, even water-logged areas. It can easily form colonies with each plant having 8 to 12 pitchers. It is very showy in the Spring, but especially in the Fall when other pitcher plants dwindle. Trumpets tolerate light frost, but do not overwinter. The large showy flowers are bright crimson to maroon, and mildly fragrant. They often bend upward after pollination. With proper care, Sarracenia Velvet generally bloom from March to April before the pitchers fully develop.
Plants are shipped bare-root, wrapped in damp sphagnum moss. In it's dormant season, it will be shipped as a dormant rhizome with trimmed off pitchers. Photographs are representative of species, and not the specific plant shipped.
Height: 6"-14"
Plant Type: Perennial, temperate
Soil: Lower Bog Mix or All-Purpose Mix
Light: Bright indoors, full sun outdoors
Use: Grows well in the bog garden, greenhouse and indoors. It is an excellent accent plant.