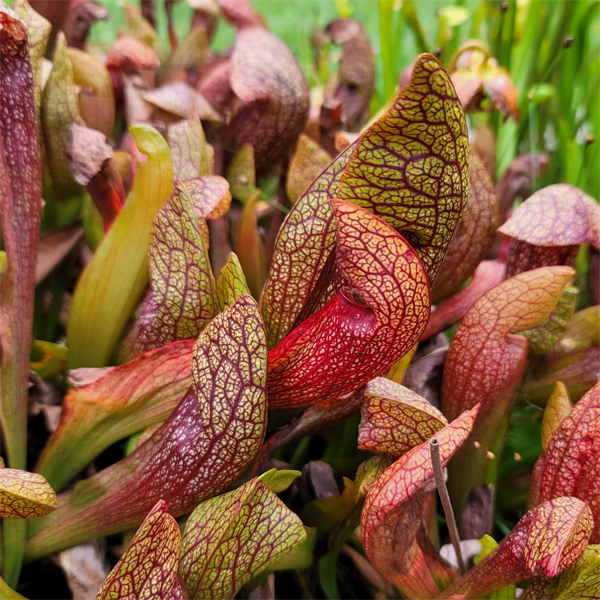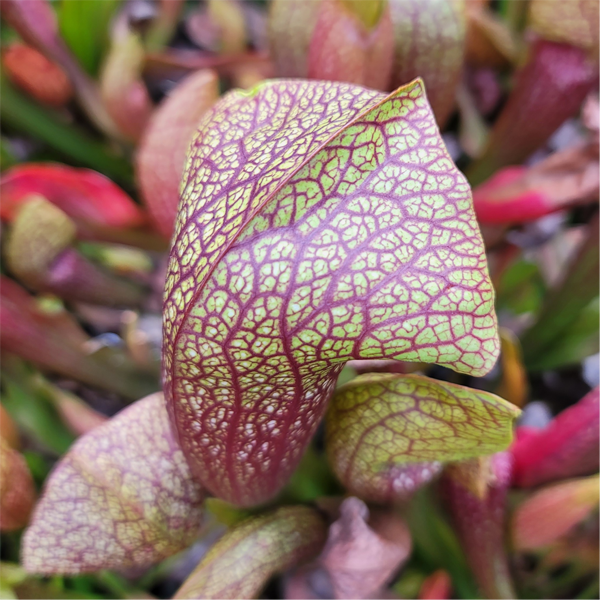 Sarracenia x Dixie Lace
Ease to Grow: Easy.
Dormancy: Recommended.
Parental Native Range: Wet Pocosins of the Gulf Coast and Southeastern North America.
Zones: 6-8 (5-9).
Dixie Lace is a beautiful cultivar with sturdy, upright, lacy red and white pitchers that resemble swollen smoking pipes with flat tops. It is a compact and vigorous plant that readily forms colonies. It grows rapidly and well in the sun and shade, and remains compact in size. Dixie Lace can grow from wet to nearly dry conditions, and holds its color into the frost. The traps darken in the Fall to maroon, and often last for 2 years. The flowers are red and fragrant, and generally bloom mid-season. It is a delightful addition to your bog garden. Dixie Lace is a complex cultivar, (Sarracenia leucophylla x alabamensis wherryi - "Cotton Patch") x (S. leucophylla x ?purpurea? -"Snorkel"). It is a result of the Horticultural Program at the University of North Carolina at Charlotte. The name honors the geographic range of the parents, the American South or "Dixie".
Plants are shipped bare-root, wrapped in damp sphagnum moss. In it's dormant season, it will be shipped as a dormant rhizome with trimmed off pitchers. Photographs are representative of the cultivar, and not the specific plant shipped.
Height: 8" - 10".
Plant Type: Perennial, temperate.
Soil: Lower Bog Mix or General CP Mix.
Light: Bright indoors, full sun to partial sun outdoors.
Use: Grows well in the bog garden, greenhouse and indoors. It is an excellent subject for tall terrariums.