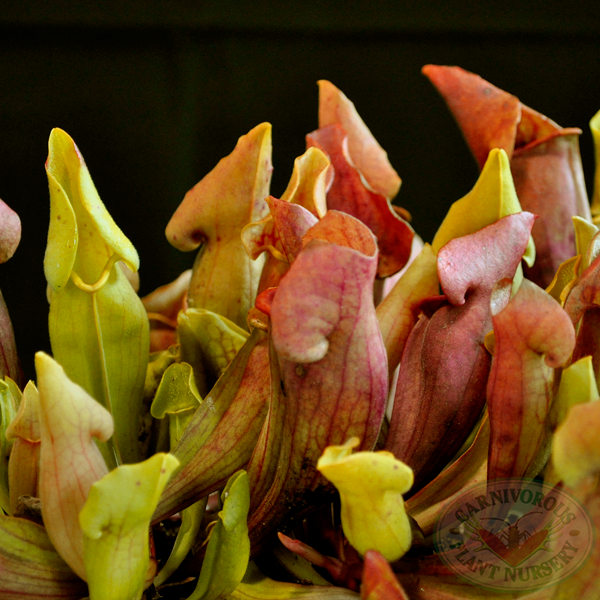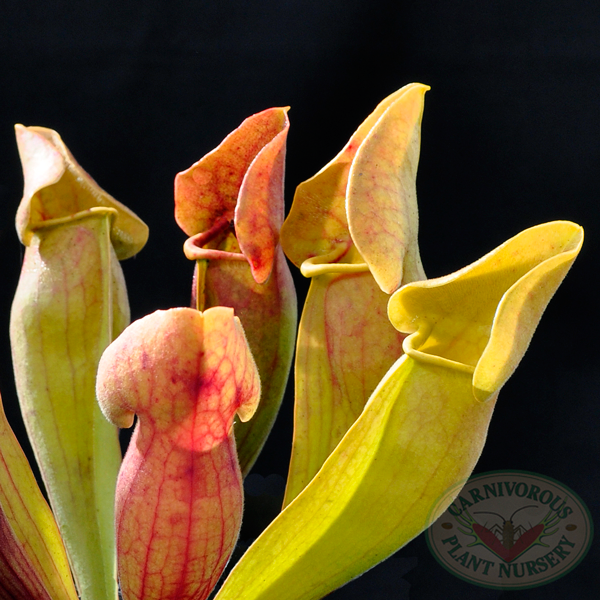 Sarracenia x Yellow Jacket
Ease to Grow: Easy
Dormancy: Recommended
Parental Native Range: Wet Pocosins and bogs of the Gulf Coast and Southeastern North America
Zones: 5-9 (4-9)
Carolina Yellow Jacket is a cultivar, Sarracenia purpurea x rosea x flava with dazzling chartreuse pitchers. It is a compact and low growing pitcher plant that produces many of its characteristic "golden" pitchers. The hoods of the traps point upward with ruffled margins, resembling perhaps an elf's slipper. It does well in the sun and shade, and remains compact in size. The traps darken with a nice copper hue and present a very colorful grouping. The pitchers often last for 2 years. The flowers are reddish-orange, and fragrant. They generally bloom from March to May before new pitchers fully develop. Yellow Jacket is an excellent addition to the front of your bog garden or in your collection. It is uniquely spectacular and will grow in northern zones with protection. Carolina Yellow Jacket is an officially registered cultivar developed by David Crump.
Plants are shipped bare-root, wrapped in damp sphagnum moss. In it's dormant season, it will be shipped as a dormant rhizome with trimmed off pitchers. Photographs are representative of the cultivar, and not the specific plant shipped.
Height: 4" - 8"
Plant Type: Perennial, temperate
Soil: Lower Bog Mix or General CP Mix
Light: Bright indoors, full sun to partial sun outdoors
Use: Grows well in the bog garden, greenhouse and indoors.