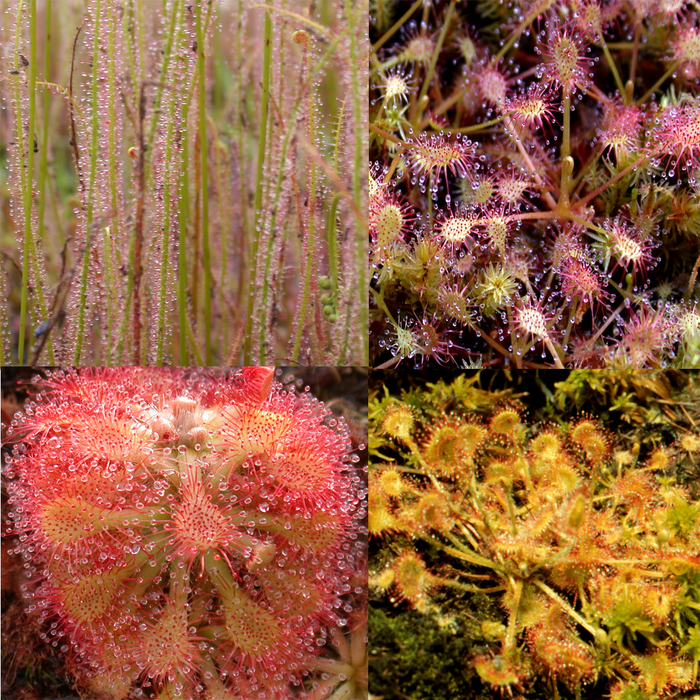 Ease to Grow: Moderate
Dormancy: Yes
Native Range: Eastern and Northern North America
Zones: 5-9 (4-10)

Sundews, Drosera, have glistening, sticky leaf traps that lure, capture and digest their prey. Each leaf is covered with fine tentacles topped with droplets of sticky, digestive "dewdrops."  Sundews are typically small plants that form large colonies. Flowers typically occur summer through fall, and they often seed themselves. Provide for dormancy. These are great additions to any bog garden.

This selection of temperate Sundew plant seeds includes: D. rotundifolia, D. intermedia, D. filiformis, and D. capillaris. Seed Packs are freshly harvested in Fall, and stored refrigerated. Seed count is approximate, but reliable.
Note: Stratification is required to prepare seeds for germination. All seeds are produced from open pollination within our collection. Some cross pollination may occur, and seed offspring may or may not be true to mother plant. Growing carnivorous plants from seeds is best suited for the experienced and patient grower. See our webpage on Growing CPs from Seeds.
Height: 0.5" - 8+"
Plant Type: Perennial, warm temperate
Soil: Lower Bog Mix or General CP Mix
Light: Bright indoors, full sun to partial sun outdoors
Use: Grows well in the bog garden, greenhouse and indoors.