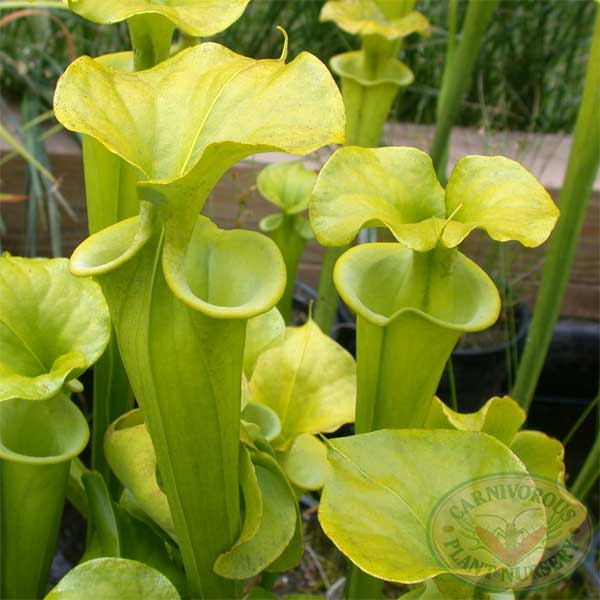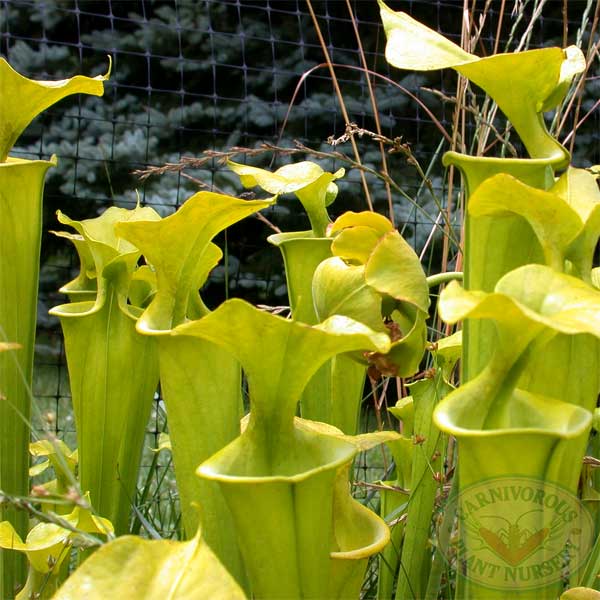 Sarracenia flava maxima Seeds
Ease to Grow: Easy
Dormancy: Suggested
Native Range: Wet Pocosins of Coastal Southeastern North America
Zones: 7-9 (6-10)
The name Sarracenia flava maxima suggests a large plant, however it's distinctive feature is not it's size, which is typical for a S. flava, but rather its nearly all green coloration, which can be yellowish green in full sun. Red pigment appears at the base of the trumpets, damaged leaves, and leaf tips especially in young traps. It is a naturally occurring variety of S. flava throughout the Atlantic Coastal Plain of Southeastern North America. It is often referred to as the 'all green' form. S. flava maxima grows in wet boggy soil. It has its best traps in Spring when they are considerably larger and sturdier. They fade by Summer and develop phyllodia (flat leaves) that persist through winter. The very large and showy flowers are yellow, and fragrant. S. flava has some of the largest and most spectacular blooms within the Sarracenia. They generally bloom from March to May before the pitchers fully develop. It is a wonderful plant for the bog garden or collection, and will grow in northern zones with protection. S. flava maxima should not be confused with a British cultivar called 'Maxima', which has light venation and grey tinting at the base of the pitcher.
Seed Packs are fresh harvested in Fall, and stored refrigerated. Seed count is approximate, but reliable.
Note: Stratification is required to prepare seeds for germination. All seeds are produced from open pollination within our collection. Some cross pollination may occur, and seed offspring may or may not be true to mother plant, though not likely with this species. Growing carnivorous plants from seeds is best suited for the experienced and patient grower. See our webpage on Growing CPs from Seeds.
Height: 12" - 32"
Plant Type: Perennial, temperate
Soil: Upper Bog Mix or General CP Mix
Light: Bright indoors, full sun outdoors
Use: Grows well in the bog garden, greenhouse and indoors. It is an excellent accent plant.