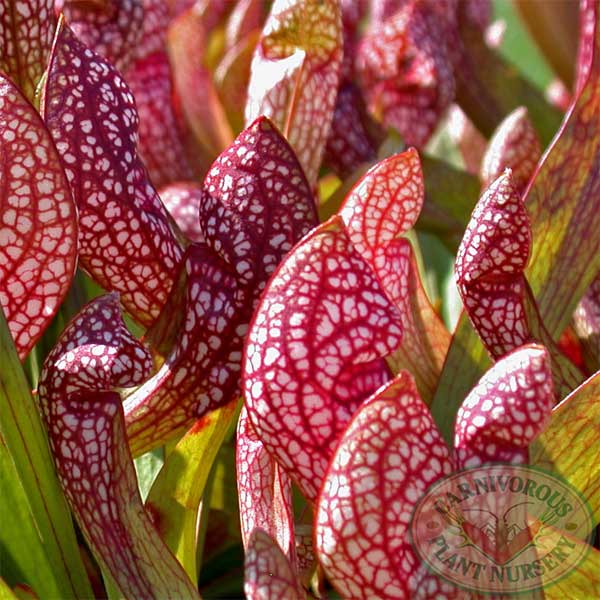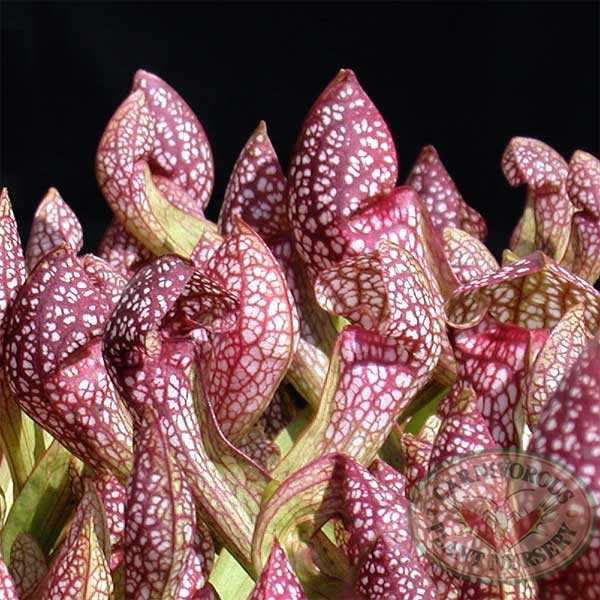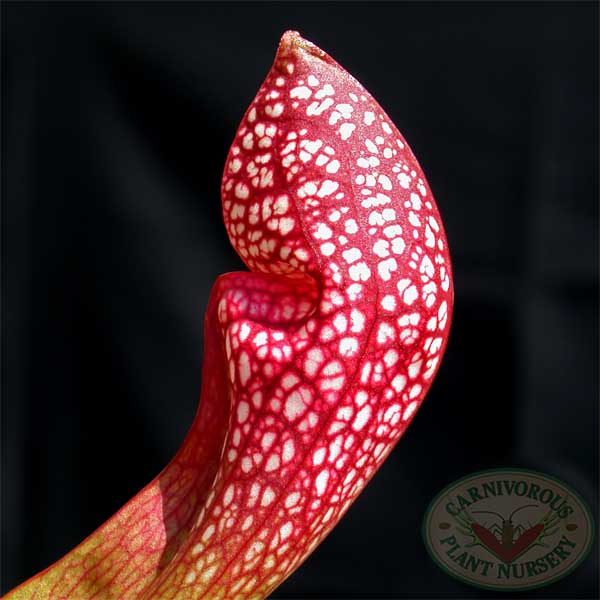 Sarracenia x Scarlet Belle
 Ease to Grow: Easy
Dormancy: Recommended
Parental Native Range: Wet Pocosins of the Gulf Coast and Southeastern North America
Zones: 7-9 (6-10)
Scarlet Belle is a cultivar (Sarracenia leucophylla x psittacina) with dazzling red and white pitchers. It is a compact plant with low, bell-shaped pitchers accented with white areoles (windows). The traps are nearly completely hooded around the small opening. They grow rapidly and well in the sun and shade, and remain compact in size. They can grow from wet to nearly dry conditions, and hold their color into the frost. The traps darken in the Fall to deep red maroon. The pitchers of Scarlet Belle often last for 2 years. The flowers are small, dark burgundy, and fragrant. They generally bloom from March to May before new pitchers fully develop. Scarlet Belle is an excellent addition to the front of your bog garden or in your collection. It is uniquely spectacular and will grow in northern zones with protection. This cultivar can be natural, but is rare, and is know horticulturally as S. x wrigleyana. Dark red forms of each parent were used to develop this cross. It is an officially registered cultivar. The name honors Bob Hanrahan's daughter and wedding.
Plants are shipped bare-root, wrapped in damp sphagnum moss. In it's dormant season, it will be shipped as a dormant rhizome with trimmed off pitchers. Photographs are representative of the cultivar, and not the specific plant shipped.
Height: 4" - 8"
Plant Type: Perennial, temperate
Soil: Lower Bog Mix or All Purpose Mix
Light: Bright indoors, full sun to partial sun outdoors
Use: Grows well in the bog garden, greenhouse and indoors.